Jurassic World: Dominion Dominates Fandom Wikis - The Loop
Play Sound

February
HOGS & KISSES, VALENTOON'S HAS MADE THE CUT!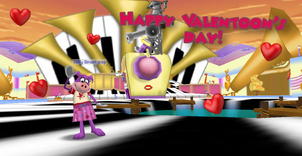 Can you feel it, toons? Love is in the air! It's here, there, and everywhere!
Valentoons day is just around the corner, and every toon in Tooniversal Studios are incredibly excited to enjoy the lovely festivities!
Toons are holding card exchanges, handing out heart balloons, donning their red and pink clothing, and even enjoying themselves some of those chalky little candies that only pop up once a year!
And even all of us here at Tooniversal Studios would like to join in. To celebrate, we're letting loose some of our most loveliest bugfixes and tweaks that we've poured our heart and souls into!
We hope you all have a wonderful Valentoons day, and no matter what, you'll always be a valentine to us!
Happy Valentoons!
Posted on Feb. 13, 2020, 3:40 p.m. by Taffy Smartypop
March
TOP O' THE TOONIEST OF MORNIN'S TO YOU!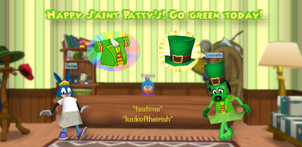 I hope every toon is having' the luckiest of days so far; a day as green as can be!
I know I have had a day as-lucky-as-an-8-leaf-clover so far! (You've all seen those? Right??). I got to sleep in late today, less bugs around, found a gold jellybean on my morning' walk. My day probably felt so lucky due to these mysterious clothing-
…Oh, how rude of me! I forgot to introduce myself, and here I am rambling on. Where are my manners? I'm Ms. Vera E. Sleepy, but you can call me Sleepy for short! And boy, now that I got that out of the way, I'd love to tell you about the wonderful items which gave me this lucky, lucky day!
Yesterday evening I was walking' by my pal Eugine's, yes that snazzy clothing store! I was having a bad night… I had to call the local pest control, the Buggie Bros. Lots of bugs to squash, and I couldn't stand seeing it! So I went on a walk through Meadowville...
What a sweetie, though, that toon. He tooned me up, right away, and chattered to me about his day. He's been telling me about all that mysterious green sludge winding up around his building. Oh, but I'm sure y'all have heard about that! Toons from all around have been trying to help dear Eugine's shop, in Meadowville. Somehow they all wind up green from everywhere from their ears to in between their toony toes… I guess winding up stained a little green must be that easy!
But as I was talking with Eugine about the newest and hottest trends in Tooniversal, he told me a secret! He has an ol' friend who he claims found a use for that green gook, and it'll be in the most fashion forward items, yet! Eugine's pals always seem to be a little mad, perhaps even bonkers… But once I tried these glorious clothes, they made me feel so lucky. I muttered to myself in my sleep last night, "Why don't I let everyone in on these charm-worthy fashion statements"? I promise you, I said that!
Fashioned from the finest of four leaf clovers, and dyed with the most luxurious and environmentally friendly greens, is a top engrained with the LUCKOFTHEIRISH. And there's also a hat for the most formal TEATIME wear. These items are sure to make you feel as lucky as me!
I hope to see you all around looking as confident in green, as I am! And while you're at it, stop by my pal Eugine's? He can't get the Mayor out there to help his store until the 20th… so I'm sure he'd appreciate you stopping on by before then!
Well, I'm gonna go take another nap! But I hope to wake up later and see you all having a day as happy as me.
With luck,
Ms. Vera E. Sleepy
Posted on Feb. 13, 2020, 3:40 p.m. by Taffy Smartypop
April
BREAKING: PRESSBOOT HQ RELEASED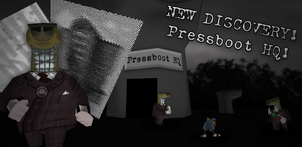 Yikes! It seems the Pressbots have started their invasions across Toontown. Gumshoes have been spreading a daily scoop that Toons are not going to miss. It seems as of today, Pressboot HQ has been discovered by some of our Toon Resistance members, and it seems that a new boss could be on the horizon.
Sorry to interrupt your silly spoils, but we come with a memo from our chief at headquarters.
"In light of recent events, it seems nobody seems to take this organization in a serious manner. It is with great dispute that we present to you our temporary headquarters in order to raid your puny little town. Effective immediately, you Toons will be stomped to bits."
As Gumshoes, we know the policy in dealing with you pesky animals. In order to disrupt the cartoon fun, it's time to serve the news how it is and publish the report on Toontown's end. With that being said, you should consider your stance in what you believe to be true and false; scuffing ourselves on your imprint will be no issue. Prepare yourselves Toons; time for you to get the boot.
Sincerely,
The Gum on your Shoes
As of April 8th, Pressboot HQ has been squashed by the resistance! Thank you toons for helping defend Toontown against the clutches of the evil Gumshoe! But that does leave us wondering.. where is this mysterious Pressbot HQ?
Posted on April 1, 2020, 4:57 a.m. by Gum 41
Easter has Sprung!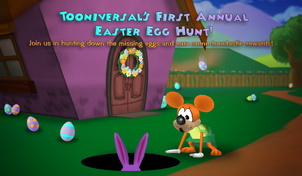 Spring into action with Easter cheer, a time for celebration with family, friends, and of course Easter Egg hunts. Now I'm no sucker, but those eggs I had were taken by some of 'em sneaky cogs y'see, so I'm countin' on you toons to help me retrieve these eggs! If yer' lucky maybe even give you a prize in return! It's gon' take an awful lot of you to help me get these eggs back, so everyone gather 'round!
Now before I run in search of these eggs, I just want to give a friendly reminder that Easter is not only about the huntin', but also about spending time with those we cherish; might even be meetin' some new fellers in this 'ere event. So come on down, show us what you can find! Back to the field for now, better get my eggs before those machines get their grubby hands on 'em! Stay Toontastic!
Redeem the code: "hoppingmad" for a first look at our Springtime clothing collection. Will you find them all this Easter Holiday?
Posted on April 12, 2020, 11:48 p.m. by I'm A. Wagon
June
HAPPY BIRTHDAY TO THE TOONIVERSE!
Toons of the World, today is a great day! 17 years ago to this very day, Toontown Online would open its doors to the public for the very first time.
The wonder and imagination brought on by the cog-crushing, pie-splatting & laugh-inducing cartoon world of Toontown Online was shared by thousands. And for the next 10 years beyond that day, many of us would create lasting memories that we will forever cherish.
Toontown Online may have closed its doors to the public in 2013, and with it spirits dwindled, but not for long! With the dedication and love for the game, here we still are, 7 years later after it closed, 17 years after it originally launched! And it's no longer just a Toontown... It's gone totally Tooniversal!
For the Toons of the Tooniverse who've spent time with Toontown Online all those years ago, we urge you to revisit those days in your mind, and take a moment to reflect on what things you appreciate about Toontown as a whole. We at Tooniversal think about it a lot!
We're wishing not only Toontown Online a happy birthday, but every Toon in the Tooniverse! For if Toontown Online never existed, we wouldn't be here right now! So let's celebrate!
As we continue to grow and expand our vision of Toontown, we happily look to the past and appreciate what brought us all here. May the Toons of the Tooniverse have one of the best cog-crushing, pie-splatting & laugh-inducing birthdays yet.
Happy 17th Birthday, Toontown!
Posted on June 2, 2020, 8:21 p.m. by Tooniversal Staff
July
Happy Fourth Of July!
POP! BOOM! PSHEEWWWWW! Sounds exactly like the Fourth of July fireworks! Just look at how many different colors there are! You guys see me in Toon Hall all the time but for an occasion filled with such crackling goodness, I had to go outside! From the rest of the Toon Council and I, we hope you guys are having a wonderful Fourth of July and an amazing weekend. Storm Sellbot will end at 11:59 Toontown Time (EST) tonight so make sure to go help Lord Lowden Clear and his rangers to slow down those pesky Sellbot factories before it's over; they need all the help they can get!
Posted on July 4, 2020, 4:07 p.m. by The Tooniversal Team
10,000 Toons Celebration
We LOVE our Toony Citizens!

WHOAAAAAAAA! There are some straaaange things happening with the Silly Meter! I wonder what's caused the Silly Surge?
Hmm... maybe it's all the new Toons that have recently come to Tooniversal? After all, things have certainly been sillier than ever!
Reports are in from the Toon Council! And we have come to the conclusion that some Toon somewhere has registered the 10,000th account! Making the Silly Meter... go absolutely CRAZY!!!
So, what happens when the Silly Meter surges, you may wonder? Well, it's truly a thing of joy! The Cogs get weaker and the Toons get stronger! And it's all because of you wonderful Toons who have recently joined us here in Tooniversal.
To show our appreciation for joining us in the fun here in Tooniversal, we are hosting a special event on Saturday, July 11th at 6pm EST in Toontown Central in Toon Valley! After the huge party, we'll go and show these weakened cogs who's boss by defeating the VP in Sellbot HQ and the CFO in Cashbot HQ afterwards!
You won't want to miss out on the fun as we celebrate every single one of us Toons being together this weekend! Keep up the great work, fighting the cogs and keeping Tooniversal the Tooniest place to be!
Posted on July 8, 2020, 6 p.m. by The Tooniversal Team
August
Doodle Days Of Summer
Phew! I need a breather! I don't know about you guys, but it's been a reallllly hot summer! I didn't know fighting cogs could be such an incredible workout! If it weren't for my Toon-Up gags in times like this, I wouldn't be able to… wait a second... Where'd my Toon Ups go!?
OH NOOOOOOO!!!
The Sun's heat has been beating down on our gag pouches all day, and it's completely melted all of our Toon-Up gags! How in the Tooniverse are we supposed to Toon each other up without our Toon-Up gags!?
Wait! I've got an idea! I'll just call up one of my bestest friends to save the day -- my adorable Doodle!
My Doodle is the best! They'll toon my friends and I up until our grins can't get any wider! And speaking of Doodles, I heard The Toon Council mentioned that there's gonna be a HUGE beanfest in Fluffy Farms in Toon Valley at 6 PM Toontown Time (EST) August 1st. Flippy's Doodle Fluffy sure knows how to throw a party! SO many jellybeans are going to be thrown, that I bet everyone's Jellybean Banks will BURST with jellybeans. Nobody would want to miss this one!
Posted on August 1, 2020, 9:39 p.m. by Daffy Don
SUMMER DAZE
This summer has been filled with a lot of cog-busting fun! My friends and I have been working up a real sweat keeping the streets clean of cogs; throwing cream pies at them has never felt more tiring! I'm going to go take a nap at my estate and then water my Juggling Cubes tree, they don't water themselves, ya know!
A few days ago, I was startled when my doodle Maxie followed me to Fluffy Farms - she's never done that before! Along with that, I saw multiple doodles surrounding the Toon HQ with some swimming in the lake, I wonder where their owners are...
The amount of doodles at Fluffy Farms is just astounding! It's like a doodle-fest! I'm sure with the surge in Doodle activity, Pet Shops around Toontown are selling out really fast, so make sure to get your own and join the party! I've seen a lot of Toons training their doodles; one toon was training as many as 5 Doodles at the same time!
The summer isn't over yet though! There are still plenty of fun things to do and a whole lot more cogs to fight... where should we even start?
Posted on August 15, 2020, 8:41 p.m. by Madame Chuckle
September
HAPPY LABOR DAY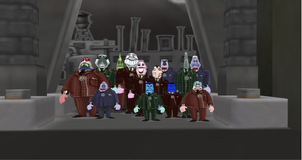 All these toons talking about Labor Day … What do they know about labor? All they want to do is play games and have fun running around the streets of Toontown while WE, the COGS, try to keep our bosses happy. You know what the worst part is? Those pesky toons keep running into us on purpose so they can throw pies and drop things on us just so they can dance around and laugh. Don't they know life is more than just fun and games?
When one of our acquaintances gets destroyed, we make another. That's why we have to be in the streets in the first place. When one of us gets short circuited by a water gun or squished with a piano, who cleans up the mess? Not the toons! They just leave our gears, metal rods, and other pieces lying around as though none of the other cogs would care. We have to go out there and spend time hunting for enough parts to make another cog.
WORK WORK WORK! It's all we know. The sellbots have to sell things, cashbots have to collect the money from the sellbots, then the lawbots have to make sure we keep everything according to the cog laws, and then, worst of all, the CEO has to be happy with what we've done or else… we get demoted!
Even though we're being worked till our parts rust, progress is being made. A vast majority of our businesses and field offices are taking over the streets. If we could experience humor, we would laugh at the amount of resistance you toons have put up. So while YOU play around with your seltzer and slapsticks, us cogs have been taking over Toontown. The Chairman even told us the first branch to conquer your playground   will get to decide the name of the new and improved Cog HQ!
We can't forget to mention the Pressbots and their tremendous amount of progress. Pressbot HQ has been delivering consistent updates for our business, while also revealing vital information about you toons. Guess in the end you're just animals after all. While you were raiding our Corporate Bosses, the Pressbots were streaming it live. We saw everything. Including those 2 Black Cats leading the assault. Originally, we were gonna retaliate with a Mega Invasion of Skelecogs. However, we're gonna use this as an opportunity to learn from our unfortunate blunder.
Even though you toons are lazy and constantly party we must give props to your "staff team". From our investigations, they seem like the only ones who actually work like us Cogs. Making sure you toons are having fun, creating ways to keep you occupied, answering questions, and making sure you're staying toony. Whenever we commence our next invasion we'll be sure to snag a few of them and "properly hire" them to C.O.G.S INC. So if I were you I would appreciate them in the short amount of time you have left to have them!
Until next time,
-The Cogs
Posted on September 7, 2020, 5:12 p.m. by The Cogs
TOONSDAY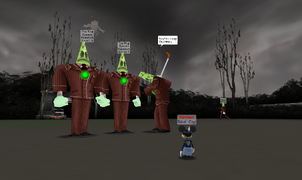 Fellow toons, the cogs may have won the battle, but they shall never win the war. They may have gotten ahold of our gags and used them against us, but rest assured, when toons go into battle together, the cogs don't stand a chance. We must take a stand against those evil cogs by hitting the streets and helping fellow toons rebuild our beloved town. Buildings, Field Offices, and even the big bosses themselves, they shall stand no chance against the combined forces of us Toons!
In honor of the toons that were lost in the fight, the Toon Council has announced a new codeword that can be redeemed in the Shticker Book: LABORDAY. It is said that its powers will make toons stronger. All you weaker toons will greatly benefit from its use. To prepare you for battle, it is highly suggested that the secret codeword BACK2SCHOOL be used. I hear the effects last for seven days and can go a long way into making a real toon out of you. Hurry though! This type of magic only lasts for a short time - September 21st is when it will disappear.
Posted on September 7, 2020, 9:17 p.m. by Devious
ONE DOOR CLOSES, ANOTHER OPENS
September 19, 2013 - The day Disney closed the doors to Toontown Online. It was said to be the darkest day in Toontown history. The cogs had won the battle and there were no survivors to the closure of the beloved game. We would all be hopeless Toons after that date, seeking back at the memories we made with old friends.
The tragedy was so severe that I hid myself in some trees in order to escape the madness that was my friends getting disconnected and never being able to log back on ever again. Fortunately, this hiding spot worked, as I managed to survive the gloom. When I came back, however, the town was completely wiped and destroyed by the cogs as they flew back to the sky. I noticed that there was going to need to be some hard work to get the old "Toontown" back with what the cogs had done to our beloved land.
Luckily, what did survive was the resources to repair all the damage that the Cogs had done to the town. While the cogs were busy celebrating what looked like their success, I tried my best to utilize the tools that were still intact, working nonstop to restore our land, and to restore the safe joyfulness of what could be a new Toontown. I knew that it would take such a long time until our Toons would be safe to come back again, but I had to keep working to get my hometown, and everyone else's home, back.
Eventually, the hard work paid off, as I would be able to restore the glory to somewhere close to what it had used to be. Many of our friends, who were still upset thinking that their town would never come back, were excited when they saw the town restored. They settled in, and many got to keep in touch with their old friends before the invasion. They even made some new friends as they worked to defeat the cogs, who were still on the loose.
Not only did we continue to defeat these cogs to help our goal of keeping them out, we also got some other animals to join. The hedgehogs, kangaroos, and deer would join in the fight against these menacing robots. Many of us made friends with them, and together, we worked to restore our old gloryland, and improved it from what was left of our power. We, the Toons, are now striving better than ever before, and we are going to show the cogs who's boss! Let's keep going towards our goal -- keep them away from Toontown, no matter how long it takes!
Posted on September 20, 2020, 1:45 a.m. by Fabian
Join The Tooniversal Team!
The toons at Tooniversal Studios have been growing in population over the past several weeks, and with that growth, comes the need for some people to help keep our town safe, fun, and managed. Our plans going forward include a variety of things that will be exciting to experience for the Tooniverse. However, a miniscule amount of this would be possible considering the current size of our team. Without some more of the most talented, intelligent, and helpful toons in town, we can't keep these hopes for the game alive! That's why we request one thing -- if you love the Tooniverse, and want to see it grow, apply for the Tooniversal Team!
The experience of the Tooniversal Team involves working with the most passionate Tooniversal toons that want to keep the game thriving for years to come! In addition to helping the community they love thrive, each of our staff members have benefitted by gaining work experience that could be used to take their imagination to places beyond the gates of possibility! Now, if you think you qualify as a diligent toon, come on over and apply at https://tooniversal.com/apply, and help grow our town with not only new toons, but the fun ideas that wouldn't be possible without you.
What does each team do, you ask? Well, here is a rundown of how we do things as a staff member for the game:
Development Team
Game Developers - Game Developers get into the thick of the inner workings here in Tooniversal. These developers frequent on creating new content for the community along with exterminating bugs and other issues when a few wrenches get tossed into the mix by the cogs!
Web Developers - Web Developers for Tooniversal are a rare set! These dedicated toons work on making sure the Tooniversal website is in tip-top shape, on both the front and back ends!
Creative Team
3D Modelers - They work on creating 3D models that are then textured by texture artists to create objects that you see in the game.
Texture Artists - Members of the team who are texture artists specialize in creating new and high quality texture palettes for many of Tooniversal's expansive neighborhoods and diverse areas! These artists work keenly with our Modelers to bring custom and never-before-seen designs while maintaining a Toony style.
Composers - They create the sounds and music of Tooniversal, creating an immersive
experience for the players and providing serene and/or action packed listening experiences in the Tooniverse!
Concept Artists - Concept artists specialize in first-stage creations of wacky new creations that toons will be able to witness firsthand within Tooniversal. These artists specialize in rough sketching and drafting designs to be sent through our Creative Team!
International Team
International Member - Our international team works on translating the game for toons across the Tooniverse. A vital role among many. If you are fluent in a foreign language, feel free to talk to us!
Support Team
Support Representative - Support team members are here to help you! They keep an eye on bug reports, emails, and are also here to help you with assistance in-game as well outside of the game! They have excellent communication skills, and are very friendly, so don't be afraid to approach them.
Moderation Team
Moderator - Obviously, moderators help moderate the game and the discord to make sure everything stays Toony! They tend to be level-headed and deal well with confrontation, some traits you may need to be a good moderator. ​​​​​​​
Community Team
Community Representative - Community Reps are some of the most toontastic folk around! These toons are faces of Tooniversal in both helping first-hand with issues and being in-game with players, as well as providing the community with events!
Creative Writer -  What a way with words! Our creative writers are the same amazing toons who provide the community with well-thought and toony blog posts on our website!​​​​​​​
If you are interested in joining our team, please apply here: https://tooniversal.com/apply
Please note that you must be 16 or older to apply.
Posted on September 27, 2020, 4:05 p.m. by The Tooniversal Team
October
Welcome Fall!
Fall is finally here! We made it through the summer fighting those nasty cogs and taking out their bosses, making lots of new friends along the way. I'm not sure about you, but I am ready for cooler weather! If only we could come up with a way to stop those pesky cogs for good and take back our wonderful toon home... but, for now, we will just have to keep fighting and take it back one cog at a time!
Speaking of our toon home.. the coming of Fall is changing quite a lot around here! The leaves are beginning to transform into colorful hues of orange, red, and yellow. It's sad knowing all of the gorgeous colors will fall away when the winter cold arrives.
It's quite beautiful already. I can't wait until Halloween, when fall is in full bloom! As Halloween approaches, be on the lookout for spooky things down the streets and in the trees at your house.
Hope it doesn't scare you too much! I know some toons can be absolutely spooked by the holiday. Just make sure nothing pops out at ya!
Posted on October 5, 2020, 1:50 a.m. by Frankenduck