Jurassic World: Dominion Dominates Fandom Wikis - The Loop
Play Sound
This post documents all the Blog Posts of 2019 for Tooniversal Studios
March
Attention All Toons!
Welcome Fellow Toons!
It's a pleasure to welcome you all to our new and nostalgic twist on Toontown! Stock up on all your silly gags as the cogs take us by surprise!
---
What does Tooniversal feature you may wonder? Listed below are some examples but keep in mind...there is PLENTY more to come!
Terms of Service, please by anytime take a look about our Terms of Service, or rules for our server. Ensuring that that the server is safe and care free for the users–– it's a must for us to ensure that all community members and staff to treat each other with the amount of respect. You can find that page right here!
Have some questions, or concerns?
Take a glance at our FAQ page! You'll most likely find your question answered there. However, unless it's a question that doesn't shows it's existence on the FAQ page, you can contact us about that question! You can contact us here!
Invasion page?
YES! You heard it; I am not talking slack! Our Invasion page is fully functioning and running perfectly! Check that out here!
One last notice–– our event! Due to the exposure and celebration of releasing our glorious new website, we are extending the date!
You will have until March 31st 11:59:59 TT to send your submissions in to Broadway Pixels!
Phew! I think I've covered just about everything! Although if anyone has any further questions or wants to join in on the fun feel free to check in with the updates on some of our popular social media accounts.
Discord: https://discord.tooniversalstudios.com/
Youtube: https://youtube.com/channel/UC9KDYnqvTCRqP
Twitter: https://twitter.com/projectbikehorn
Posted on March 21, 2019, 1:37 a.m. by Sanela
June
Toontown's 16th Birthday
It's important to us to acknowledge and celebrate this momentous date in our community, as it's the sole reason we're all still here today. We play, enjoy, cherish and even actively develop and create new and exciting content all centered around the very basis of this game. And for many of us, this has been an on-going process for years!
Toontown Online gave so many of us hours, months and even years of enjoyment, and it's inspired us to do great things, whether it's streaming Toontown for charity, creating and producing art inspired by the game, or even what we strive to do with Tooniversal Studios in constantly doing our best to create innovative, fun and enjoyable content for all Toontown players to enjoy.
So remember, toons of the world! Take this day to celebrate Toontown's birthday. Think about all the fun memories it's created for you, the friends you've made and the things it has brought you and what it continues to bring you as we look to the future. There's still plenty of fun to be had in this town!
So we ask all you fellow Toons of the World to unite and join us today in saying Happy Birthday, Toontown!
Posted on June 3, 2019, 1:26 a.m. by Flippy
Open Beta Day!
Hey there toons, Broadway here. I am just first to say, "WOWZA" we hit over 70 members in an hour of us testing our first open beta session, and honestly, our team is so thankful and appreciative of you toons. Thank you all and we can't wait to show more of what we have planned, I can only say there is a lot to look forward through a soonTM.
Posted on June 4, 2019, 8:19 a.m. by Broadway Pixels
The Celebration Only Begins Here...
Hey There Toons!
We have some big plans to go over, first for one. We have reached over 1,000 toons registered on this website here. Say what? Yes, you heard me right. We couldn't have done it without you guys, you're all truly toony enough to join us in what Tooniversal has and what will be coming to the game; Speaking of that, let's talk about what is coming to Tooniversal, shall we?
Pressbot HQ:
This is a big topic, we wanted to discuss more into. While we have been finishing up our tasks for preparing for the Pressbot HQ takeover. The cogs have planned a HUGE event for this. They call this "Project Release" there is no stopping of what those pesky cogs have been up to. We can only stay tooned with what they have planned for us.
Stormbot HQ:
Storm Sellbot has begun, but does that mean this stops here? Well in Tooniversal, it just doesn't. We have a lot of things planned for these stormed events, grab a suit today and only start from what you can discover without grinding for a suit!
Spin Gags:
We have been working day and night shifts making sure we can not only release these but to make them just "right." If you do not know the idea behind it, these gags will cause overtime damage to the cogs, meaning which round passes they will take more damage, while it may be slower but over time it can destroy or can cause a lot of not so fun with cog and we know how cogs love destroying that fun. We, however, have been making great progress and should have these gags ready to roll out soon!
New Map?
The Undiscovered Land has been something Flippy and I have been talking about and we can say right now, the cogs will try every way to ruin this, so far what we have discovered, some of the lands are quite beautiful but it only seemed to last for very long before it seemed to turn to darkness. We feel it's safe to stay away from this area until the Toon HQ figures out if it's safe for Toons to cross.
Open Beta?
We can safely say, closed beta is over, keys are no longer workable or in the game. However, this does not mean we are even close to finishing yet! We have a lot to work on behind the scenes and we can say while it's been a busy ride, but it's been a very fun and amusing experience. We can't wait to show so much to come to Tooniversal Studios.
Posted on June 12, 2019, 12:55 a.m. by Broadway Pixels
HOW ARE 'ROO?
Toons everywhere are leaping and bouncing for joy! Why you may ask? Well, it's because of Tooniversal Studios' newest update, of course!
Toons just like you are the party-loving, fun-seeking and cog-crushing beings roaming the streets of Tooniversal Studios each and every day. And with our latest update, we introduced another awesome Toon to the party -- Kangaroo!
That's right! You can hop, leap and jump right onto Tooniversal Studios TODAY and create your very own Kangaroo Toon! Make sure you get your all-natural gag pouch ready and bounce straight into battle helping out your fellow toons -- they'll be appreciating it!
So what are you waiting for? It's just one good Kangaroo leap away! Make sure to hop onto Tooniversal Studios and create your very own Kangaroo Toon today!
Posted on June 25, 2019, 7:58 p.m. by Loopy
November
BEWARE OF HOWL O'WEEN'S SPELLS!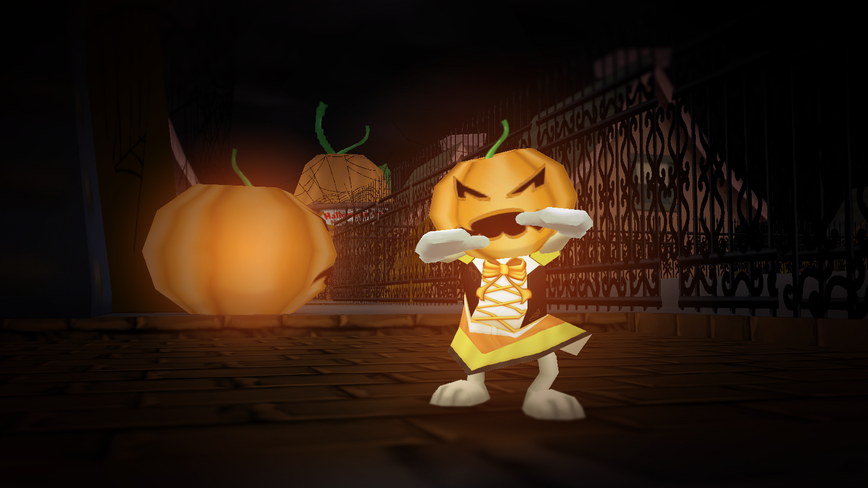 Happy Halloween to all you tricksters and Toons of the Tooniverse! This is Flippy here to inform you all of some rather... spooky circumstances
Planning for this year's Halloween night was put into action long ago, and we sought to make it the SPOOKIEST and the SCARIEST it had ever been! Now that the day has finally come, it's shaping up to be the silliest Halloween night in Tooniversal yet! Well, as silly as spooky allows, that is.
I invited all the black cats, all the witches, ghouls, ghosts from all reaches of the Tooniverse to stay here in Tooniversal. In a place crawling with spiders and infested with pumpkins at every street corner. In their very own neighborhood built for them -- Halloween Town!
Decorations were strewn about, shops were established to allow the visitors a place to stay for the night. And trust me, lots and LOTS of candies were shipped in to meet demand. Hey, wait a second... Surlee, where did my taffies go!? That monkey, always experimenting on one thing or another- even if it means Halloween sweets!
But I'll be honest. I might have gone a biiiiit overboard when ordering supplies and inviting treats, tricks, and the tricksters behind them. Go big or go home I guess!
Howl O'Ween of the "I've Put a Spell on You - Matchmakers" shop has found Halloween Town to be absolutely terrifying- exactly to her liking! So terrifying, in fact, that she's put a long-lasting spell on the entirety of Halloween Town to keep it open for an entire week after the main event!
I'm just the President of the Toon Council, so I'm afraid there's not much I can do about this spooky situation. But what I can do is tell each and every one of you to log on this week and enjoy this incredibly spooky and fun occasion! It's Halloweek in Tooniversal Studios!
Posted on Nov. 1, 2019, 12:22 a.m. by Flippy
December
WE WISH YOU A MERRY CHRISTMAS!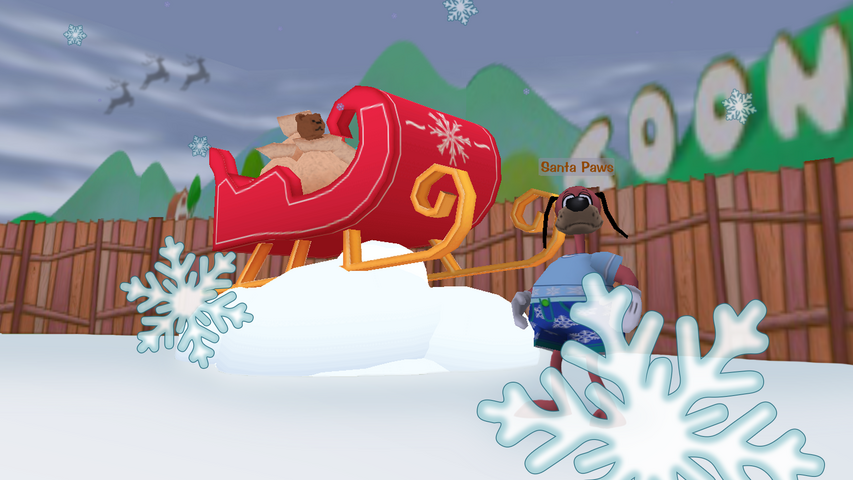 Happy Ha-ha Holidays!
Can you feel it, toons? The holiday season has arrived! Snowflakes are falling, the air's grown chilly, and the excitement of gift-giving has grown with each gift-filled day that's passed!
Speaking of each day passing, I've been giving some gifts each day to make each one special!
As you may have noticed, Your dear old Santa Paws has landed here in Toontown Central in the past days with my sleigh, bringing holiday cheer and joy for all -- and giving a few gifts along the way!
Each day I reach into my sleigh and find a new gift to give to the toons who drop by! Some days I'll have a special task, and some days I'll have a different unique treat!
And don't you dare frown in frivolous fret if you haven't faced the fantastic festivities yet, friend!
Each day over this joyous holiday season until January 4th will have its own special treat! Whether it be a special task, a bonus, or something completely unexpected! So you still have a chance to get a gift from your dear old Santa Paws!
It's just a little something from me, to the toons of Tooniversal Studios during the most wonderful time of year. Don't miss it before I fly back to the North Pole and the winter decorations get packed up!
Happy holidays, Tooniversal! And may your holiday season be filled with joy!
Posted on Dec. 26, 2019, 12:28 a.m. by Santa Paws